Gorgonzola Crisp Potato Pancakes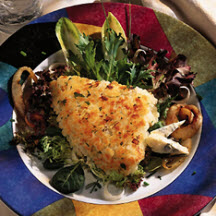 Crispy, pan-fried grated potato, onion and parsley pancakes with creamy gorgonzola-filled centers.
Recipe Ingredients:
4 large (2 1/2 pounds total) baking potatoes, washed but not peeled
4 tablespoons butter, melted
1/4 cup onions, minced
1/2 tablespoon parsley, chopped
1/2 tablespoon kosher salt
Black pepper, to taste
1/2 cup (3 ounces) Wisconsin Gorgonzola, cut into 1/2 inch pieces placed in freezer to firm and chill completely
1 teaspoon olive oil
Cooking Directions:
In a large pot, cover the potatoes with water and bring to a simmer. Cook for 10 minutes and shut off the heat. Let the potatoes cool to room temperature in the water.
When cool, drain and peel the jackets off the potatoes. Using the course side of a cheese grater, grate the potatoes into a bowl. Add the melted butter, onion, parsley, salt and pepper and stir.
Heat a teaspoon of olive oil in an 8 inch non-stick pan. Add half the potato mixture and smooth down with the back of a spoon. Add the cold Gorgonzola slices and top with the remaining potatoes. Press and seal the edges with the back of a spoon.
Over medium high heat cook the potatoes until lightly browned (2 to 3 minutes). Slide the pancake onto a plate and turn it over into the same pan. Brow the other side (2 to 3 minutes).
Remove from the pan and allow to cool slightly and then serve.
Makes 4 servings.
Recipe and photograph provided courtesy of Wisconsin Milk Marketing Board, Inc.