Beef Barley Soup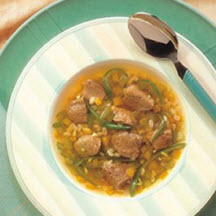 Recipe courtesy of The Beef Checkoff.
Tip: For gluten allergy concerns, replace barley with white cannellini beans.
Recipe Ingredients:
3 pounds beef shank cross cuts, cut 1-inch thick
1 tablespoon vegetable oil
1 medium onion, chopped
1/2 cup chopped carrot
1/2 cup chopped celery with leaves
3 cloves garlic, minced
1 1/2 teaspoons salt
1 1/2 teaspoons dried thyme
1/2 teaspoon ground black pepper
1 bay leaf
1/3 cup medium pearl barley
1 (9-ounce) package frozen French-cut green beans or use fresh beans
Cooking Directions:
Heat oil in Dutch oven over medium heat until hot.
Add onion, carrot, celery and garlic; cook and stir 5 min. or until tender.
Add beef, 5 c. water, salt, thyme, pepper and bay leaf; bring to a boil.
Reduce heat; cover tightly and simmer 1 hr.
Remove beef. Cut meat from bones; cut beef into 3/4" pieces.
Skim fat from soup.
Stir in beef and barley; continue cooking, covered, 50 to 60 min. or until beef and barley are tender.
Add green beans (and cannellini beans if replacing barley); bring to a boil.
Reduce heat; simmer 2 to 3 min. or until beans are tender.
Discard bay leaf.
Makes 6 servings.
Nutritional Information Per Serving (1/6 of recipe): Calories: 267; Total Fat: 7g; Saturated Fat: 2g; Total Carbs: 10g; Fiber: 3g; Protein: 39g; Sodium: 648mg.
Recipe and photograph courtesy of The Beef Checkoff.