Beef Stew with Guinness Extra Stout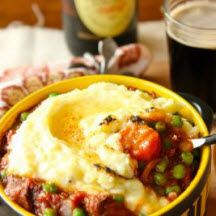 The marrow of beef shank, caramelized onion, and Guinness Extra Stout instead of broth imparts deep flavor to this hearty, comforting stew. Recipe by Food Blogger, Priscilla Willis of She's Cookin from the Heart.
Recipe Ingredients:
Stew:
1 pound beef shank, with bone and marrow
2 tablespoons olive oil
1 pint Guinness Extra Stout
1 (15-ounce) can diced no-salt-added tomatoes
1 (6-ounce) can tomato paste
1 onion, chopped
4 carrots, peeled and sliced
1 bay leaf
1/2 teaspoon ground cinnamon
1 1/2 cups frozen peas
Mashed Potatoes:
1 1/2 pounds Idaho® Dutch Yellow potatoes, peeled and cut into 1-inch cubes
2 tablespoons butter
1/3 cup low-fat milk
1/3 cup low-fat sour cream
1 teaspoon Mrs. Dash garlic herb seasoning
Cooking Directions:
For the Stew: Heat large heavy pot over medium heat – I use my trusty Lodge cast iron Dutch Oven for stews, just as my mother did. Cook the onions in 1 tablespoon olive oil until browned, remove from pot and set aside.
Sprinkle both sides of beef shank with salt and pepper (use only pepper for low-sodium diets). Add another tablespoon of olive oil and brown the beef on both sides. Remove from pot and cut into several pieces – allows for quicker fall-apart tender results.
Return beef, including the bone and marrow to the pot. Add Guinness, tomatoes, onions, carrots, cinnamon, and bay leaf to pot. Cover and simmer on low for 3 to 4 hours until beef is to desired tenderness. Alternatively, you may transfer to a slow cooker and cook 8 hours or so on Low.
Prepare frozen peas according to package directions. Add to stew.
While stew is cooking, prepare Mashed Potatoes (or use your favorite mashed potato recipe).
For the Mashed Potatoes: Place potatoes in a large 6 quart pot with enough water to cover the potatoes (6 to 8 cups of water depending on the size of your pot. Heat over high heat until water boils – cook for 15 to 20 minutes until potatoes can be pierced with a fork. Do not overcook. Remove from heat and drain.
Mash the potatoes with a potato masher. Add the butter, milk, sour cream, and seasoning and mix into the potatoes. Using a fork to achieve a finer texture, mash the potatoes in a circular motion until they're a little smoother, but still chunky. Do not "over work" them or they will become gummy.
To Serve: Preheat oven to broil.
Spoon stew into oven-proof bowls, top with mashed potatoes, drizzle with a little butter, and place under the oven broiler for a minute to brown. Watch carefully to avoid burning. Serve immediately.
Makes 4 servings.
Recipe and photograph courtesy of the Idaho Potato Commission.