Cheesy Potato Soup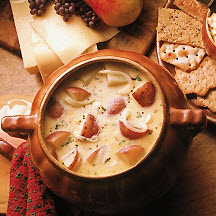 This is a tasty, quick and easy, micro-cooked cheese and potato soup.
Recipe Ingredients:
4 baking potatoes (about 1 1/2 pounds)
2 tablespoons butter
1 medium onion, sliced
2 tablespoons all-purpose flour
1 teaspoon beef bouillon granules
2 cups water
1 (12-ounce) can evaporated milk
1 cup (4 ounces) shredded Wisconsin Mild Brick cheese
1 teaspoon chopped parsley
3/4 teaspoon Worcestershire sauce
3/4 teaspoon salt
3/4 teaspoon ground black pepper
Cooking Directions:
Cook potatoes in microwave on high until tender; cool.
Place butter and onions in large bowl. Cook in microwave on high until tender, about 2 minutes.
Stir in flour; add bouillon granules and water. Stir well; return to microwave and cook on high for 2 minutes until mixture is heated.
Scoop out potatoes, leaving pieces in chunks.
Add potatoes, evaporated milk, cheese and seasonings to hot mixture. Return to microwave and cook on high 2 1/2 to 4 minutes until cheese is melted and soup is hot.
Makes 6 servings.
Recipe and photograph provided courtesy of Wisconsin Milk Marketing Board, Inc.