Chicken and Dumpling Soup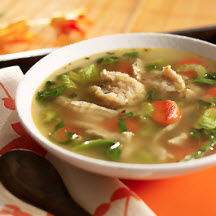 Recipe courtesy of the Wheat Foods Council and Chef Gale Gand.
Recipe Ingredients:
Soup:
2 tablespoons olive oil
2 cups carrot, sliced
1 cup onion, chopped
1 cup celery, chopped, including some leaves
2-quart low-sodium chicken broth
2 cups cooked chicken, shredded
1/2 teaspoon ground black peppercorns
1/2 teaspoon dried thyme
2 bay leaves
1 to 2 cups fresh spinach leaves, coarsely chopped (optional)
Dumplings:
1 cup whole wheat flour
1 cup all-purpose flour
1/4 teaspoon salt
3/4 cup low-fat milk
1 large egg
Cooking Directions:
Heat oil in Dutch oven or soup kettle over medium-high heat. Sauté carrot, onion and celery for 5 minutes; stir in broth, chicken, peppercorns, thyme and bay leaves. Reduce heat to low; simmer, partially covered for 20 minutes.
Meanwhile, in small bowl, mix dumpling ingredients until well blended. Drop small spoonfuls of dumpling dough into simmering soup. Cover soup and allow dumplings to cook for about 20 minutes (they will rise to the top of the soup as they cook).
Remove bay leaves before serving soup. Stir in spinach if desired.
Makes 8 servings.
Recipe courtesy of "Food for Thought: From Parents to Children" - a cookbook created from the collaboration of the Wheat Foods Council, Chef Gale Gand and parents around the country. By purchasing the book for $3.50, you can support Spoons Across America, a not-for-profit organization dedicated to educating children, teachers and families about the benefits of healthy eating. The 35 nutritious and flavorful wheat-based recipes found within the book are fun to make and will help teach children about nutritious food choices.
Cookbooks are available at www.wheatfoods.org. If you have any questions, contact wfc@wheatfoods.org.
Nutritional Information Per Serving (1/8 of recipe; 2 cups): Calories: 299; Total Fat: 8g; Saturated Fat: 2g; Cholesterol: 65mg; Total Carbs: 33g; Fiber: 4g; Protein: 25g; Sodium: 564mg.
Recipe and photograph courtesy of Wheat Foods Council.