German-Style Alaska Seafood Stew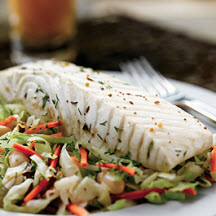 Recipe courtesy of Alaska Seafood Marketing Institute.
Recipe Ingredients:
1 tablespoon butter
1 teaspoon caraway seed
1 teaspoon dill seed
1/2 teaspoon celery seed
1/2 teaspoon mustard seeds
1 (14.5-ounce) can beef broth
1 (12-ounce) bottle German or Belgian beer
1/4 teaspoon white pepper
4 (4-ounce) Alaska Seafood portions, fresh, thawed or frozen
For Stew:
2 teaspoons dried minced onion or 1 green onion, sliced
4 cups (about 12 ounces) shredded cabbage
1 cup shredded carrots (about 1 large)
1 (14.5-ounce) can cannellini beans, drained and rinsed
Salt and ground black pepper to taste
2 tablespoons fresh chopped dill or parsley
Cooking Directions:
In a large (10 to 12-inch) nonstick pan or stockpot, melt butter over medium heat. Stir in all seeds; cook and stir 1 minute. Add broth and beer; bring to a simmer. Sprinkle in pepper.
Rinse any ice glaze from frozen Alaska Seafood portions under cold water. Turn off heat and gently add seafood to liquid, skin side down. Return heat to a simmer.
Once simmering, cover pan and cook 4 to 5 minutes for frozen seafood or 2 minutes for fresh/thawed fish.
Turn off heat and let seafood rest 5 minutes or until seafood is opaque throughout. Remove seafood, cover and keep warm.
Remove and reserve (for later use) all but 1 cup of poaching liquid. To remaining liquid in pan, add minced onion, cabbage and carrots. Cook and stir over medium-high heat, for 3 to 4 minutes, until cabbage is wilted. Stir in beans. Season to taste with salt and pepper. Toss in dill or parsley.
To Serve: Portion 1 cup cabbage stew into shallow bowl and top with a seafood portion.
Makes 4 servings.
Tip: This stew is best with Alaska whitefish varieties: Alaska Pollock, Cod, Sole or Halibut.
Nutritional Information Per Serving (1/4 of recipe using Alaskan Halibut): Calories: 310; Total Fat: 7g; Saturated Fat: 2g; Cholesterol: 44mg; Total Carbs: 26g; Fiber: 7g; Protein: 31g; Sodium: 744mg.
Recipe and photograph courtesy of Alaska Seafood Marketing Institute.