Lentil-Split Pea-Pomegranate Soup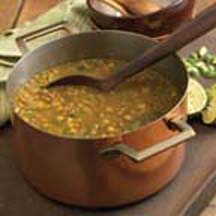 Pomegranate is a superfruit fruit with amazing versatility such as its use in this unique, yet deliciously hearty soup.
Recipe Ingredients:
3 tablespoons extra-virgin olive oil
1 large onion, chopped
2 cloves garlic, minced
1 teaspoon ground coriander
1 teaspoon ground turmeric
3 (14-ounce) cans vegetable or chicken broth
1 cup lentils, rinsed and sorted
1 cup yellow split peas, rinsed and sorted
2 cups Ocean Spray® Cran·Pomegranate™ Cranberry Pomegranate Juice Drink
1/2 cup loosely packed fresh parsley leaves, chopped
1/4 cup loosely packed fresh mint leaves, chopped
Salt and pepper
1 lime, cut into small wedges
4 green onions, sliced
Cooking Directions:
Heat oil in 3 to 4-quart saucepan over medium-high heat. Add onion, garlic, coriander and turmeric. Cook, stirring occasionally, for 5 minutes or until onion is tender.
Add broth, lentils and split peas. Bring to a boil. Cover and reduce heat. Simmer 30 to 35 minutes or until split peas are desired tenderness.
Stir in cranberry pomegranate juice drink, parsley and mint. Return to a simmer. Simmer for 5 minutes.
Season to taste with salt and pepper. Squeeze lime juice over individual servings and sprinkle with green onions.
Makes 6 servings.
Recipe and photograph provided courtesy of Ocean Spray; through ECES, Inc., Electronic Color Editorial Services.