Maine Lobster and Roasted Corn Chowder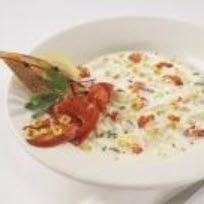 You don't have to live in or visit Maine to enjoy an exceptional bowl of lobster chowder with roasted corn. This recipe is your ticket to a home-cooked Maine-style dining experience.
Recipe Ingredients:
2 live lobsters
12-ounces onions, diced
3-ounces bacon, diced
3-ounces pancetta, diced
1/2 teaspoon fresh parsley
1/2 teaspoon kosher salt
1/2 teaspoon white pepper
1/2 teaspoon paprika
1/4 cup dry sherry
1 pound potatoes, diced
1 cup heavy cream
1 (12-ounce) can creamed corn
2 (12-ounce) cans evaporated milk
4-ounces salted water (reserved from potatoes)
4 ears native Maine corn
2-ounces butter
Salt and ground black pepper, to taste
Cooking Directions:
Boil lobsters in heavily salted water. Cook ten minutes, remove, pick lobster meat, and reserve shells.
Sauté onions, bacon, and pancetta until golden brown with a translucent texture. Add picked lobster meat, parsley, and spices, deglaze with sherry, and remove from heat.
In a separate pot, boil potatoes in heavily salted water. When al dente, remove potatoes, savings four ounces of water. Let potatoes cool and in same pot add heavy cream, creamed corn, evaporated milk and salted water. Place on medium heat.
Husk corn and lightly salt, pepper and butter. Roll each ear on hot grill, moving constantly to avoid burning.
Remove from heat and carefully, with a sharp knife, remove kernels and as much liquid as possible.
Add corn, bacon, onions, lobster meat, and shells to liquid. Bring to internal temperature of 165°F (75°C), remove from heat, and discard shells. Add potatoes and serve.
Makes 8 servings.
Recipe and photograph provided courtesy of Maine Lobster Promotion Council.