Maine Lobster Stock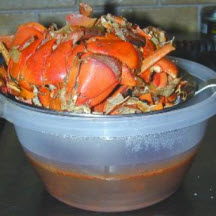 "Whenever we have a lobster feed, I save the bodies and carcasses to make Maine Lobster Stock. For an even more concentrated flavor, some chefs use the bodies of uncooked lobsters. Freeze Maine lobster stock in pint containers, and then you have a ready supply to prepare soups and sauces." Recipe submitted by Jon Middleton.
Recipe Ingredients:
12 cups water
Up to 5 pounds Maine lobster shells and/or bodies
2 cups aromatics, roughly chopped*
2 bay leaves
5 sprigs fresh parsley
6 whole peppercorns
1 cup dry white wine (may be omitted)
Cooking Directions:
Add all the ingredients to a large, heavy stockpot and bring to a boil. Reduce the heat and simmer gently for 30 minutes.
Remove the stock from the heat; strain the mixture through a fine mesh strainer.
Return the liquid to the stovetop and simmer over moderate heat until it is reduced to about 2 quarts.
Store cooled stock for up to four days in the refrigerator or up to 6 months in the freezer.
Makes about 2 quarts.
*Ingredient Note: Aromatics are the vegetables that add flavor and depth to a stock. The basic French aromatics are celery, onion and carrot. I often also use garlic, leeks, and mushroom stems. Making stock is more of an art than a science; there is no precise amount of each aromatic to use. This is why each chef has his or her own uniquely flavored soups and sauces. Tasting the stock is the key. Taste at different stages, add aromatics if necessary, and be creative!
Recipe and photograph provided courtesy of Maine Lobster Promotion Council.