Sage and Rosemary Pork Stew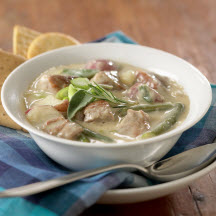 Warm up after a day outside or make this stew as a great reason to stay in. Serve with homemade biscuits.
Recipe Ingredients:
2 pounds boneless pork shoulder roast, cut into 3/4-inch cubes
1 tablespoon vegetable oil
2 (14.5-ounce) cans chicken broth
1 cup water
1/2 cup sliced green onions
1 tablespoon minced fresh rosemary, or 1 teaspoon dried
1 teaspoon minced fresh sage, or 1/8 teaspoon dried
1/4 teaspoon salt
1/8 teaspoon ground black pepper
2 cups cubed, unpeeled new potatoes
1/2 pound fresh green beans, cut up
1/3 cup all-purpose flour
2/3 cup half-and-half (light cream)
Cooking Directions:
Heat oil in Dutch oven. Brown pork cubes over medium-high heat. Stir in chicken broth, water, onions and seasonings. Bring to a boil; reduce heat. Simmer uncovered for 20 minutes.
Stir in potatoes and beans; simmer 15 to 20 minutes or until tender.
Combine flour and half-and-half; mix until smooth. Gradually stir into stew. Cook and stir until thickened.
Makes 6 servings.
Recipe and photograph provided courtesy of National Pork Board.