Seafood Corn Chowder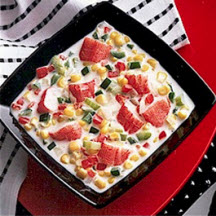 A hearty and satisfying crabmeat and corn chowder.
Recipe Ingredients:
3 slices bacon, diced
1 cup chopped onion
1/3 cup chopped celery
1/2 cup chopped green bell pepper
1/2 cup chopped red bell pepper
1 tablespoon all-purpose flour
1 (10.5-ounce) can low sodium chicken broth
2 cups skim milk
1 (12-ounce) can evaporated skim milk
8 to 12 ounces crab meat or imitation crab meat
2 cups fresh or frozen whole kernel corn
1/2 teaspoon ground black pepper
1/2 teaspoon paprika
Cooking Directions:
Fry diced bacon in large pot until just starting to brown. With a slotted spoon remove bacon pieces and set aside.
Add diced onion, celery and green and red pepper pieces to bacon grease. Cook uncovered on moderate heat for 4 to 5 minutes or until vegetables are soft.
Add flour to vegetable mixture, cook and stir constantly for 2 minutes.
Gradually add chicken broth and bring to a boil. Add milk, evaporated milk, seafood, corn, black pepper and paprika. Heat, stirring occasionally, 5 minutes or until chowder is hot. Stir in cooked bacon pieces and serve.
Makes 6 servings.
Recipe and photograph courtesy of National Fisheries Institute.