Seafood Gumbo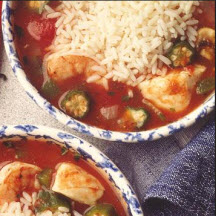 For a more authentic Southern-style seafood gumbo, use blue crab meat and serve with Tabasco sauce.
Recipe Ingredients:
1/4 cup peanut oil
8 ounces andouille sausage, Sliced 1/4-inch thick, half moons
1/3 cup all-purpose flour
2 cups (1 large) yellow onion, diced 1/2-inch
1 1/2 cups (3 stalks) celery, sliced 1/4-inch crescents
1 1/2 cups (1 large) red or yellow bell pepper, diced 1/2-inch
2 tablespoons minced garlic
6 cups (about 5 large) tomatoes, diced 1/2-inch
4 teaspoons Worcestershire sauce
1 1/2 teaspoons Old Bay Seasoning salt
1 1/2 teaspoons dried oregano
1/4 to 1/2 teaspoon ground cayenne pepper
2 whole bay leaves
5 3/4 cups chicken stock or broth, low sodium (or three 14.5-ounce cans)
2 cups okra, fresh or frozen sliced 1/3-inch thick
1/4 cup minced parsley
1 1/2 pound prawns, peeled and deveined
1 pound crabmeat, blue crab if available
6 halves blue crabs, cooked, split in half (optional)
Steamed rice for accompaniment (optional)
Cooking Directions:
In large heavy pot over high heat, heat peanut oil. When oil is hot, add sausage and cook until browned. Remove sausage but leave fat in pan. Add flour to fat, lower heat to medium and stir constantly until "peanut butter brown" colored.
Add onion, celery, bell pepper and garlic. Stir well and cook for about 2 minutes. Add tomatoes, seasonings and chicken broth. Stir well, increase heat to high and bring to a boil. Reduce heat to simmer, and let gumbo base cook for about one hour, until slightly reduced and thickened.
Add okra and parsley to gumbo base, and let cook for 15 minutes.
At this point you can continue and make a large batch, or cool base and finish gumbo to order.
Add prawns and cook 5 minutes.
Add crabmeat, crab halves if using, and heat through, about 5 to 8 minutes.
Serve with steamed rice, if desired.
Makes 6 servings.
For Chicken and Sausage Gumbo: Replace prawns and crabmeat with 5 pounds of large diced raw chicken meat. Add chicken when you add the seasonings, and let cook 1 hour, then add okra and parsley and let cook 20 minutes.
Recipe courtesy of the California Tomato Commission.