Senate Bean Soup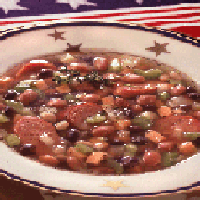 Senate bean soup is on the menu in the Senate's restaurant every day. There are several stories about the origin of that mandate, but none have been corroborated.
Recipe Ingredients:
1 pound (2 cups) dry navy beans
1 meaty ham bone or 1 1/2 pounds ham hocks
1 cup chopped onion
2 garlic cloves, minced
1 cup chopped celery
2/3 cup mashed potato flakes or 1 1/2 cups mashed potatoes
1/4 cup chopped parsley
1 1/2 teaspoons salt
1 teaspoon ground black pepper
1 teaspoon each, nutmeg, oregano, and basil
1 bay leaf
Cooking Directions:
Wash and sort beans.
In a large kettle, cover beans with 6 to 8 cups of hot water. Bring to a boil; boil 2 minutes. Remove from heat, cover, and let stand 1 hour.
Add another 2 quarts of cold water and ham bone. Bring to a boil; simmer 1 1/2 hours.
Stir in remaining ingredients. Simmer 20 to 30 minutes or until beans are tender.
Remove ham bone, trim off meat, return to soup and serve.
Makes about 3 quarts (12 cups).
Recipe provided courtesy The Michigan Bean Commission.