Southwestern Sweet Potato Tortilla Soup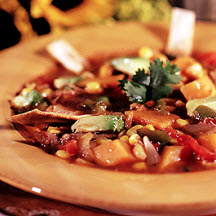 Recipe courtesy of the North Carolina Sweet Potato Commission.
Recipe Ingredients:
Tortilla Strips:
6 (6-inch) flour tortillas
Vegetable oil cooking spray
Soup:
2 tablespoons olive oil
1 medium onion, chopped
1/2 cup small diced green pepper
1 tablespoon minced seeded jalapeño pepper
1 tablespoon minced garlic
1 teaspoon chili powder
1/2 teaspoon ground cumin
3 cups chicken broth
2 cups diced, peeled North Carolina sweet potato
1 pound cooked, diced barbecued pork
2 cups frozen corn kernels
1 (15-ounce) can diced tomatoes
1 cup tomato sauce (or an 8-ounce can)
1/2 cup mild salsa
1 teaspoon salt
1/2 teaspoon black pepper
1/3 cup cilantro, chopped
1 ripe avocado for garnish
Cooking Directions:
For Tortilla Strips: Preheat oven to 375°F (190°C).
Coat one side of each tortilla with cooking spray and divide into two stacks of three. With a sharp knife, cut tortillas into 1/4-inch wide strips. Spread loosely on ungreased baking sheet. Bake about 10 minutes until crisp and lightly browned. Stir well after 5 minutes.
For Soup: In a large soup pot, heat oil and cook onions, peppers, garlic, chili powder and cumin over medium heat for 5 minutes.
Add chicken broth and sweet potatoes and bring to a low simmer. Cook about 10 minutes.
Stir in pork, corn, tomatoes, tomato sauce, salsa, salt and pepper. Cover and simmer another 15 minutes.
Stir in cilantro and adjust seasoning to taste.
Just before serving, peel avocado and dice.
To Serve: Ladle soup into large bowls, top with diced avocado and garnish with tortilla strips.
Makes 6 servings.
Nutritional Information Per Serving (1/6 of recipe): Calories: 529; Total Fat: 20g; Total Carbs: 57g; Fiber: 8g; Protein: 33g.
Recipe and photograph courtesy of the North Carolina Sweet Potato Commission.