Turkey Chili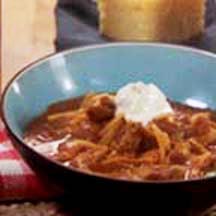 Chili made from holiday turkey leftovers.
Recipe Ingredients:
1 bell pepper, chopped
2 cloves garlic, minced
2 large onions, chopped
Olive oil
2 tablespoons chili powder
1 teaspoon ground cumin
1/2 teaspoon oregano
1/2 teaspoon ground cinnamon
1 (14-ounce) can chicken stock
1/2 (6-ounce) can tomato paste
1 can puréed tomatoes
Leftover cooked turkey (as much as you would like to use)
1 cup beans
Cooking Directions:
Sauté bell pepper, garlic, and onion in Bertolli Extra Virgin Olive Oil.
Season with chili powder, ground cumin, oregano and ground cinnamon.
Add chicken stock, tomato paste and puréed tomatoes.
Cook cover for 15 minutes.
Pull apart as much leftover turkey as you would like and add the meat to the sauce.
Now add 1 cup of beans, drained and rinsed.
Cover loosely and simmer the chili for 45 minutes to an hour.
Makes 6 servings.
Recipe provided courtesy of HolidayKitchen.tv. Photograph property of CooksRecipes.com.