Turkey Quesadillas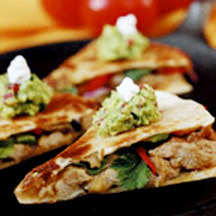 Versatile quesadillas, great for lunch, a light supper or served as a party appetizer. A tasty way to use leftover holiday cooked turkey, too!
Recipe Ingredients:
1 package Honeysuckle White® Thin Cut Turkey Breast Slices for Scallopini & Milanesa
1 tablespoon olive oil
2 cloves garlic, minced
1 teaspoon ground cumin
1/2 teaspoon chili powder
1/2 teaspoon salt
2 tablespoons butter - divided use
2 large (8-inch) flour tortillas
Optional Toppings: Grated cheddar cheese, diced tomato, fresh cilantro, chopped onion, salsa, diced red and green bell pepper and sliced mushrooms
Cooking Directions:
Preheat oven to 350°F (175°C).
In a 9x13-inch baking dish, sprinkle turkey with olive oil, garlic, cumin, chili powder and salt. Bake for 20 minutes.
Slice turkey into strips.
Heat 1 tablespoon butter in a medium nonstick skillet over medium heat.
Place tortilla in skillet; top evenly with turkey and choice of toppings. Reduce heat to low. When cheese begins to melt, fold tortilla over.
Remove from skillet, slice into three wedges.
Repeat process for remaining tortilla.
Makes 6 servings.
Recipe and photograph provided courtesy of Honeysuckle White, a division of Cargill, Incorporated. Used with permission.