Turkey Satay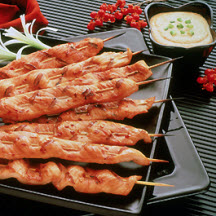 Recipe courtesy of the National Turkey Federation.
Recipe Ingredients:
Peanut Sauce:
1 clove garlic, minced
1 1/2 teaspoons lemon juice
1/4 cup smooth peanut butter
1/8 teaspoon coconut extract
1 tablespoon onion, chopped
1/4 teaspoon soy sauce
1/8 teaspoon cayenne pepper
1/4 cup milk
Turkey Satay:
1 pound turkey breast
3 tablespoons milk
1 teaspoon soy sauce
1/2 teaspoon red pepper flakes
1/2 teaspoon fresh ginger root, minced
Non-stick cooking spray
1 tablespoon olive oil
1 tablespoon onion, minced
1/2 teaspoon lemon zest
1/8 teaspoon coconut extract
Bamboo skewers, soaked in water
Cooking Directions:
For Peanut Sauce: In food processor, combine garlic and onion. Process for 10 seconds or until chopped. Add lemon juice, soy sauce, peanut butter, cayenne, and coconut extract. Process 20 seconds or until blended. With motor running, slowly add milk through feeder tube. Process sauce until smooth and well blended. Microwave on HIGH 20 to 30 seconds or until thickened. Reserve for use later.
For Turkey Satay: Cut turkey in half lengthwise and place between 2 (12-inch) pieces of wax paper. Flatten each turkey piece and cut into 1-inch wide strips.
Combine milk, oil, soy sauce, onion, pepper flakes, lemon zest, ginger and coconut extract. Pour marinade over turkey strips

and coat all strips. Cover, refrigerate and marinate turkey strips for at least 4 hours.
Weave turkey strips onto skewers. Discard marinade.
Lightly coat grill rack with vegetable cooking spray.
Grill turkey strips about 4 inches from the heat for 2 to 3 minutes per side or until turkey is no longer pink in center.
Makes 4 servings.
Nutritional Information Per Serving (1/4 of recipe): Calories: 240; Total Fat: 10g; Saturated Fat: 3g; Cholesterol: 85mg; Total Carbs: 5g; Fiber: 1g; Sugar: 2g; Protein: 34g; Sodium: 160mg; Potassium: 433mg.
Recipe and photograph courtesy of the National Turkey Federation.