Turkey Scaloppine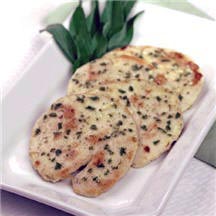 A quick and easy entrée that's sure to please your family as well as being good enough to serve guests.
Turkey cutlets are crosswise cuts from the turkey breast that are 1/4 to 1/2-inch thick. Look for them in your supermarket's poultry section.
Recipe Ingredients:
1 pound turkey breast cutlets, or slices
3 tablespoons all-purpose flour
Salt and ground black pepper to taste
1 tablespoon olive oil - divided use
1/4 cup water
1/4 cup chicken broth, or dry white wine
1 tablespoon butter
2 cloves garlic, finely chopped
1/2 teaspoon dried sage, crushed
1/2 teaspoon chicken base or bouillon granules
Cooking Directions:
Coat cutlets with flour; sprinkle with salt and pepper.
Heat 1 1/2 teaspoons olive oil in large, nonstick skillet over medium-high heat. Add half of cutlets; cook on each side for 1 to 2 minutes or until no longer pink in center. Remove from skillet; keep warm. Repeat with remaining olive oil and cutlets.
Add water, wine, butter, garlic, sage, and bouillon to skillet. Bring to a boil; cook for 1 to 2 minutes. Add cutlets to skillet; reduce heat to low. Cook, stirring and turning cutlets over to coat, for 1 to 2 minutes.
Makes 4 servings.
Recipe and photograph provided courtesy of Honeysuckle White, a division of Cargill, Incorporated. Used with permission.