Turkey Tenderloin with Mushroom Sauce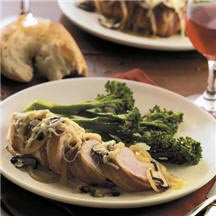 Grilled, bacon-wrapped turkey tenderloins served with sautéed mushrooms and onions and a sprinkling of Parmesan cheese.
Recipe Ingredients:
Toothpicks
1 package Honeysuckle White® Turkey Breast Tenderloins
2 tablespoons butter or olive oil
1 yellow onion, thinly sliced
1 cup thinly sliced fresh mushrooms
2 strips of Honeysuckle White® Hardwood Smoked Turkey Bacon
Freshly grated Parmesan cheese
Cooking Directions:
Soak toothpicks in water until needed.
Preheat charcoal or gas grill.
Wrap each tenderloin with a strip of bacon; secure with toothpicks.
Grill turkey for 5 minutes on each side.
Cover and grill for 10 more minutes or until no longer pink and internal temperature reaches 170°F (80°C).
Meanwhile, heat butter or oil in a large nonstick skillet over medium heat. Cook onion and mushroom until softened, about 10 minutes.
Serve turkey topped with the mushroom and onion mixture and sprinkle with Parmesan cheese.
Makes 4 servings.
Recipe provided courtesy of Honeysuckle White, a division of Cargill, Incorporated. Used with permission.