Turkey with Broccoli and Wild Rice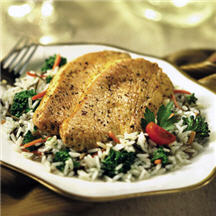 For a quick and easy meal that's sure to impress, try this dish. Seasoned and sautéed turkey cutlets are simmered atop wild rice with chopped broccoli and shredded carrot.
Recipe Ingredients:
1 package Honeysuckle White® Turkey Breast Cutlets
1 tablespoon olive oil
1 teaspoon seasoned salt
1 teaspoon coarse ground black pepper
1 1/4 cups chopped frozen broccoli
1/2 cup carrots, shredded
2 cups chicken broth
1 (7-ounce) package wild rice
Cooking Directions:
Heat oil in a large nonstick skillet over medium-high heat.
Sprinkle turkey with seasoned salt and pepper.
Cook turkey for 5 minutes on each side or until no longer pink and internal temperature reaches 170°F (80°C).
Place broccoli, carrots, broth and rice in a large pan. Bring to a boil; place turkey on top of mixture.
Cook, covered, on low for 15 minutes.
Makes 4 servings.
Recipe and photograph provided courtesy of Honeysuckle White, a division of Cargill, Incorporated. Used with permission.