Baked Stuffed Clams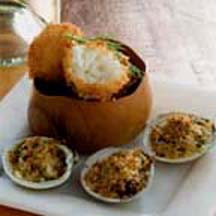 The nicely rounded citrus flavors of the Markham Sauvignon Blanc accent the light brine of the clams for a savory start to your holiday meal.
Recipe Ingredients:
For the Clams:
24 Manila clams, cleaned
3 tablespoons extra virgin olive oil
3 cloves garlic, halved
1 tablespoon red pepper flakes
1/3 cup water
2 tablespoons parsley, chopped
Salt

For the Stuffing:
2 cloves garlic, finely minced
1/3 cup extra virgin olive oil
1/2 cup dry toasted bread crumbs, finely ground
Salt and ground black pepper, to taste
2 tablespoons flat leaf parsley, finely chopped
3 tablespoons Parmesan cheese, grated
3 tablespoons butter, melted
2 ounces juice from steamed clams
Cooking Directions:
For the Clams: Warm olive oil in a pot; add garlic, red pepper and salt. Brown garlic; add clams. Cook covered 2 to 3 minutes, add water and parsley; recover. Cook 2 to 3 minutes more, until clams open; discard unopened clams. Reserve 2 ounces of the sauce.
Detach clams from shells and replace. Discard half of the shell.
For the Stuffing: In a small bowl, combine parsley, olive oil, garlic, Parmesan, and bread crumbs with reserved clam sauce. Mix well and let stand for 10 minutes. Spoon small amount of the mixture on top of each clam. Refrigerate 3 to 6 hours covered.
Place clams under preheated broiler for 5 minutes, until a little crust forms.
Serve while hot.
Makes 24 servings.
Recipe by Colin Crowley, Executive Chef at Terlato Wines International.
Recipe and photograph provided courtesy of www.napavalleyholiday.com, through ECES, Inc., Electronic Color Editorial Services.