Family-Favorite Recipes
Genuine favorite recipes from our family kitchen to yours!
These are not just kitchen-tested recipes, they are genuine family-favorites that we think are just too good to keep to ourselves.
This special collection shares favorite recipes that have been a part of our family meals for many years, as well as newly found family-favorites.
We hope you enjoy these recipes as much as we do!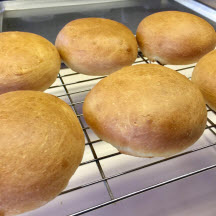 Recipe:
Homemade Hamburger Buns
These homemade hamburger buns easily stand up to the challenge of the juiciest burgers.