Blue Cheese Cheesecake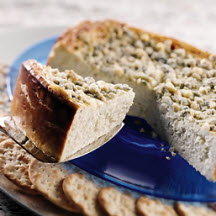 Wedges of savory cheesecake served with a sweet compliment of caramel drizzle.
Recipe Ingredients:
16 ounces cream cheese, at room temperature
2 cups (12 ounces) finely crumbled blue cheese, at room temperature
3 large eggs, at room temperature
1/4 cup sour cream
2 tablespoons clover or orange blossom honey
Pinch of kosher salt
Pinch of fresh cracked pepper
1/2 cup caramel topping
Water crackers for accompaniment, optional
Cooking Directions:
Heat the oven to 300°F (150°C).
Spray an 8-inch spring form pan with cooking spray. Line the bottom with parchment paper, and spray again.
In large bowl, beat the cream cheese until smooth.
Measure out 1/4 cup blue cheese and set aside.
To the remaining blue cheese; beat, add the eggs, one at a time, beating well after each addition. Scrape the mixture off of the sides of the bowl. Add the sour cream, honey, salt, and pepper. Beat until combined. Pour into the pan.
Place a shallow pan of water in the oven, and place the cheesecake on the rack above it. (Steam from the water will help prevent cracks in the cheesecake.) Bake 40 minutes.
Remove the cheesecake from the oven. Sprinkle the reserved blue cheese over the top and bake 10 to 15 minutes more, until lightly browned.
Cool in the pan, to room temperature.
To serve, cut the cheesecake into wedges. Drizzle each plate with caramel; place the wedge on the plate.
Makes 12 to 16 servings.
Recipe and photograph provided courtesy of Wisconsin Milk Marketing Board, Inc.