Caramel Fondue and Apples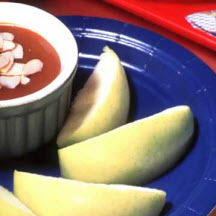 Caramel apples are as much a part of fall as colored leaves and county fairs. This year, make it easy on yourself and let guests do the apple dipping into warm, yummy caramel fondue!
Recipe Ingredients:
1 (14-ounce) package caramels
1/4 cup evaporated milk or half-and-half
1 tablespoon butter or margarine
5 medium Granny Smith, Golden Delicious, and/or Red Delicious apples, washed and cut into bite-sized chunks
1/2 cup chopped roasted peanuts or pecans
Skewers for dipping
Cooking Directions:
Combine caramels, milk and butter in 1-quart microwave-safe measure or bowl. Microwave on HIGH (100%) 2 to 3 1/2 minutes.
Pour mixture into 1-quart fondue pot.
Place chopped nuts in a shallow bowl.
Provide skewers for dipping apple chunks into the warm fondue then into nuts.
Makes 10 appetizer servings.
Tips:
Toss cut apples in 1 tablespoon lemon juice to prevent browning.
Omit the use of skewers and simply cut apples into wedges for dipping.
Recipe and photograph courtesy of the Washington Apple Commission.