Champagne Oysters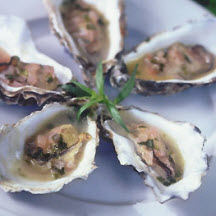 Serve this elegant dish as a starter with crusty bread. Recipe courtesy of UK Seafish Authority.
Recipe Ingredients:
12 oysters, shucked, reserving shells
2 ounces (1/4 cup) unsalted butter
2 shallots, finely chopped
1 1/4 cup pink champagne or rosé sparkling wine
2 tablespoons fresh chopped tarragon
Salt and ground black pepper to taste
Fresh tarragon leaves for garnish
Cooking Directions:
Heat half the butter in a pan. Cook the shallots for 1 minute.
Add the champagne and any remaining oyster juices, tarragon and seasoning. Bring to a boil and simmer until the liquid is reduced by half.
Add the oysters to the pan and cook gently for 2 minutes. Spoon each oyster back into the shell.
Increase the heat and whisk the remaining butter into the sauce, a little at a time.
Pour the sauce over the oysters, garnish with fresh tarragon and serve.
Makes 4 servings.
"From sea to plate, Seafish delivers expert knowledge, skills and support which help the UK seafood industry secure a sustainable and profitable future."
Recipe and photograph courtesy of Seafish, the UK Sea Fish Industry Authority www.seafish.org.