Feta and Vidalia Onion Tart with Shaved Fennel
and Mixed Green Salad, Pickled Beets and Apple Vinaigrette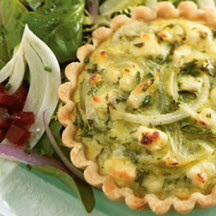 Recipe by Chefs Frank Randazzo and Andrea Curto-Randazzo.
Recipe Ingredients:
Savory Tart Dough:
6 cups all-purpose flour
2 egg yolks
2 large whole eggs
Pinch of kosher salt
1 pound butter, chilled and cut in small squares
2 tablespoons cold water

Feta and Onion Mixture:
5 pounds Vidalia onions, peeled and julienned
2 ounces clarified butter
8 ounces heavy cream
4 large eggs
2 egg yolks
1 1/2 pounds Wisconsin Feta cheese, crumbled
6 ounces fresh herbs of choice, such a tarragon, parsley and mint, chopped
Salt to taste
Black pepper to taste

Vinaigrette:
1 ounce apple cider vinegar
1 tablespoon granulated sugar
2 tablespoon Dijon mustard
3 ounces (scant 1/3 cup) canola oil
Sea salt to taste
Freshly ground black pepper to taste

Salad:
1 fennel bulb, shaved
1 red onion, peeled and shaved
1 pound mesclun greens
4 ounces Apple Cider Vinaigrette (see above)
4 ounces pickled beets, diced
Reduced Balsamic vinegar for garnish, optional
1/2 cup chives, chopped, for garnish
2 each Granny Smith apples, peeled, seeded and julienned
Cooking Directions:
For Savory Tart Dough: In a food processor, place flour, egg yolks, eggs and salt. Begin to process and immediately add butter piece by piece. When butter is incorporated, add enough of the water to complete binding of the dough, forming a ball. Remove from processor. Cover with plastic wrap and chill for 2 hours.

Remove dough from refrigerator and let sit at room temperature for at least 30 minutes.

Preheat oven to 375ºF (190ºC).

Roll the dough in 12 portions and mold into individual tart pans. Score the tart dough with a fork.

Par bake for about 7 minutes, until golden brown.

For Feta and Onion Mixture: In a large skillet, sweat onion in butter until very tender. Cool to room temperature.

Incorporate cream, eggs and egg yolks. Add remaining ingredients, mix and check seasoning. Add remaining ingredients, mix and check seasoning.

Divide the onion-Feta mixture among the 12 prebaked tart shells.
Bake 12 minutes in the 375ºF oven. Remove from oven. Keep warm.

For Vinaigrette: In a blender, combine vinegar, sugar and mustard. Slowly add oil and blend. Season.

Salad and Final Preparation: Toss the shaved fennel, red onion and mixed greens in a bowl with 4 ounces Apple Cider Vinaigrette. Mix well. Divide among 12 serving plates. Place 1 teaspoon of beets slightly off center. Place warm tart next to salad portion. Garnish with a drizzle of reduced balsamic vinegar (optional), chopped chives and apples. Serve immediately.

Makes 12 servings.
Recipe and photograph provided courtesy of Wisconsin Milk Marketing Board, Inc.