Grand Cru Gruyère and Lobster Cheesecakes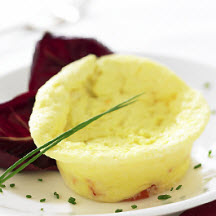 These miniature lobster cheesecakes make an elegant appetizer or first course. Recipe by Chef Scott Johnson.
Recipe Ingredients:
1 cup Wisconsin Roth Käse Grand Cru Gruyère cheese, shredded
1 cup cream cheese, at room temperature
1 teaspoon lemon zest
1 teaspoon lemon juice
2 large eggs
1/2 cup heavy cream
Salt and ground black pepper, to taste
1/2 cup lobster meat
6 ounces Wisconsin Roth Käse Grand Cru Gruyère cheese, cut in 4 thick slices
Cooking Directions:
Preheat oven to 300°F (150°C).

In food processor, pulse shredded Gruyère and cream cheese until mixture is smooth. Add lemon zest, lemon juice, eggs, cream, salt and pepper. Pulse to incorporate. Scrape mixture into medium bowl. Fold in lobster meat.

Spray four (4-ounce) baking dishes, such as ramekins, with cooking spray. Place in a deep baking pan.
Divide cheesecake mixture evenly among dishes.
Add warm water to pan to depth of 1 inch up sides of individual dishes. Cover pan.

Bake cheesecakes 50 to 60 minutes or until set.

Remove pan from oven and cool 10 minutes.

Remove cheesecakes from dishes and place, uneven side up, on serving plates. Top with cheese slices.

Makes 4 appetizer/first course servings.
Recipe and photograph provided courtesy of Wisconsin Milk Marketing Board, Inc.