Grilled Cheese Marinara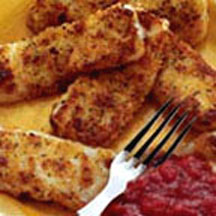 Who can resist the taste and texture of warm, flavorful cheese cloaked in a crispy coating paired with a simple tomato and basil marinara sauce?
Recipe Ingredients:
8 ounces mozzarella, Monterey Jack, or cheddar cheese
2 cups crushed cracker crumbs (plain or flavored as desired)
1 tablespoon dried Italian seasoning
1/4 teaspoon freshly ground pepper
2 large eggs
Homemade or commercial marinara sauce
Cooking Directions:
Cut cheese lengthwise into 1/3 to 1/2-inch-thick slices.

Combine cracker crumbs, Italian seasoning, and pepper in a shallow dish.

Working with one piece of cheese at a time, dip cheese slices in beaten egg, coating completely. Coat with crumb mixture; place on a baking sheet lined with waxed paper.

To grill, prepare grill for medium-high heat. Place a piece of heavy-duty aluminum foil on the grill rack. Place coated cheese strips on foil-lined grill; cover and grill 2 to 3 minutes on each side or until cheese melts.

To pan-fry, brush the bottom of a heavy skillet with olive oil; place over medium-high heat until hot. Reduce heat to medium; add cheese slices.
Cook 2 to 3 minutes on each side or until cheese melts. Using a spatula, transfer to serving plates; serve with marinara sauce.
Makes 8 to 10 appetizer servings.
Recipe and photograph provided courtesy of the American Dairy Association.