Mini California Walnut Scones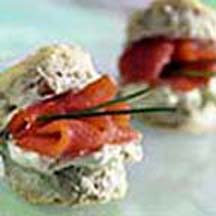 These tiny scones are perfect for an hors d'oeuvres platter. Fill with carpaccio, prosciutto, shaved roast beef or smoked salmon. Top with horseradish/sour cream mixture, Dijonnaise, herbed mustard or chutney. Garnish with fresh herbs.
Recipe Ingredients:
2 cups all-purpose flour
2/3 cup finely chopped, toasted California Walnuts
4 teaspoons baking powder
1/2 cup butter
3/4 cup milk - divided use
24 California Walnut halves, optional
Cooking Directions:
In large bowl, combine flour, chopped walnuts and baking powder. Using a pastry blender or 2 knives, cut in butter until mixture resembles coarse crumbs.
Remove 2 tablespoons milk and set aside. Add remaining milk to flour mixture; stir just until moistened.
Turn dough out onto lightly floured surface; knead lightly a few times until smooth. Roll or pat out dough to 3/4-inch thickness; cut into 1 1/2-inch rounds using lightly floured cutter.
Place on ungreased baking sheet. Brush tops with reserved milk; if desired, top each with a walnut half, pressing slightly into dough.
Bake in 425°F (220°C) oven for 10 to 12 minutes or until golden brown.
Makes 24 mini biscuits.
Savory Biscuits - Add 1/2 teaspoon dried oregano and 1/4 teaspoon dried basil or 1/2 teaspoon crushed dried rosemary to flour mixture. Use 2 1/2-inch round cutter. Bake for 12 to 14 minutes. Makes about 10 scones.
Sweet Scones - Add 1 tablespoon granulated sugar to flour mixture. After cutting in butter, stir in 1/2 cup raisins, currants or dried cranberries. If desired, add 1 tablespoon grated orange or lemon rind and sprinkle tops with granulated sugar. Use 2 1/2-inch round cutter. Bake for 12 to 14 minutes. Makes about 10 scones.
Recipe and photograph provided courtesy California Walnuts.