Pistachios Roasted with Smoked Chile Tequila and Limes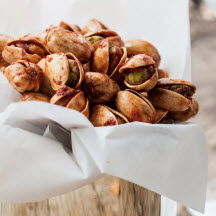 For a dazzling snack, try this tasty pistachio recipe from Chef Robert Del Grande of Houston, Texas.
Recipe Ingredients:
1/2 cup fresh lime juice
1/2 cup granulated sugar
4 large chipotle chiles canned in adobo: approximately 3 ounces 2 tablespoons adobo sauce: from the canned chipotle chiles
6 tablespoons silver tequila
1/2 teaspoon salt
2 pounds pistachio nuts in the shell
Lime wedges
Cooking Directions:
Combine the lime juice, sugar, chipotle, adobo sauce, tequila and salt in a blender. Puree until smooth.
Place the shell-on pistachio nuts in a mixing bowl. Add the sauce and toss or stir until the sauce is fully incorporated into the nuts. Transfer the nuts to a sheet pan.
Preheat an oven to 350°F (175°C).
Toast the nuts for 5 to 10 minutes or until the nuts are nicely browned. Remove from the oven and cool to room temperature.
To serve, place the pistachio nuts in a serving bowl. Sprinkle the nuts with salt and garnish with lime wedges.

Makes ? servings.
Recipe by Chef Robert Del Grande.
Recipe and photograph provided by Brandpoint Content; Copyright 1996-2014.