Refreshing Vegetarian Spring Rolls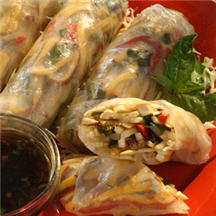 The delicious recipe for vegetarian spring rolls is compliments of cookbook author Ying Chang Compestine.
Recipe Ingredients:
2 tablespoons canola oil
1 1/2 teaspoons finely chopped garlic
8 oz. flavored, baked tofu, shredded
1 cup sunflower greens or bean sprouts
1/2 cup shredded fresh basil leaves
1 medium red bell pepper, cut into short thin strips
2 tablespoons MAGGI TASTE OF ASIA Sweet Chili Sauce
1 tablespoon MAGGI Seasoning Sauce
1 1/2 teaspoons sesame oil
12 (8-inch) round dried rice paper wrappers
Soy and Chili Dipping Sauce (recipe follows)
Cooking Directions:
Heat canola oil in large, nonstick skillet over medium-high heat. Add garlic; cook, stirring constantly, for about 30 seconds or until fragrant. Add tofu; cook, stirring frequently, for 2 minutes. Turn off heat. Stir in sunflower greens, basil, bell pepper, sweet chili sauce, seasoning sauce and sesame oil.
Soak one sheet of rice paper wrapper in warm water for about 1 minute or until soft. Transfer wrapper to a dry cutting board.
Arrange 2 tablespoons filling in an even horizontal mound just below the center of the wrapper. Tightly roll up the rice paper to form a tight cylinder, folding in the sides about halfway, as you would to form an egg roll or a blintz. Repeat procedure with remaining wrappers and filling. Cut each spring roll in half on the diagonal. Serve with Soy and Chili Dipping Sauce.
For Soy and Chili Dipping Sauce: Combine 1/4 cup MAGGI TASTE OF ASIA Cooking Soy Sauce, 2 tablespoons rice vinegar, 1 1/2 tablespoons finely chopped green onion, 1 tablespoon MAGGI TASTE OF ASIA Sweet Chili Sauce and 1 teaspoon sesame oil in small bowl.
Makes 24 servings.
Nutritional Information Per Serving (1/24 of recipe): Calories: 90 Calories from Fat: 25 Total Fat: 3 g Saturated Fat: 0 g Cholesterol: 0 mg Sodium: 390 mg Carbohydrates: 12 g Dietary Fiber: 1 g Sugars: 2 g Protein: 4 g
Recipe and photograph are the property of Nestlé® & Meals.com, used with permission.