Turkey & Spinach Potstickers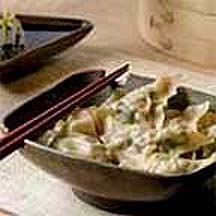 Wonton wrappers filled with ground turkey, spinach, gingerroot, green onions, soy sauce, and sesame oil.
Recipe Ingredients:
1 package wonton wrappers, square or circular
Filling:
1 pound Honeysuckle White Ground Turkey Breast
1 (10-ounce) package frozen chopped spinach
1 large egg
2 tablespoons gingerroot, fresh and grated
3 tablespoons green onions, finely sliced
1/4 teaspoon ground black pepper
1 teaspoon salt
1 tablespoons soy sauce
1 teaspoon Asian sesame oil
1 1/2 teaspoons cornstarch
1 tablespoon vegetable oil
Dipping Sauce:
1/4 cup soy sauce
1/4 cup rice vinegar
1 teaspoon chili oil
Cooking Directions:
Thaw spinach thoroughly and press it very dry.
Chop green onion.
Peel and grate gingerroot.
Mix all ingredients for filling together.
Place wonton wrapper on palm of hand. Put 1 tablespoon filing in center of wrapper. Lightly moisten edge of wonton wrapper with a bit of water to help it seal perfectly. Fold in half diagonally. Pinch the edges together really well. Place on surface and cover with kitchen towel until ready to cook, so they don't dry out.
Put 1 tablespoon oil in the bottom of a large frying pan. Line the bottom with a single layer of potstickers. Fry until brown on one side, about 1 minute on medium high heat. Add 1 cup water and bring to a boil. Cover, lower heat, and steam for 12 to 15 minutes or until most of the water evaporates. Remove the lid and cook until remaining liquid has evaporated. To test for doneness, remove one and cut in half.
Mix dipping sauce and serve in individual bowls with potstickers.
Makes 6 servings.
Nutritional Per Serving (1/6 of recipe): Calories: 212 Calories from fat: 46 Total fat: 5 gm Saturated fat: 1 gm Cholesterol: 94 mg Sodium: 1679 mg Carbohydrate: 17 gm Protein: 24 gm
Recipe and photograph provided courtesy of Honeysuckle White, a division of Cargill, Incorporated. Used with permission.