Wild Mushroom Onion Jarlsberg Slider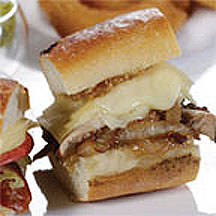 The addition of a full-bodied cheese, like nutty Jarlsberg, and complimentary spices give this slider its own unique, delicious profile.
Recipe Ingredients:
Nonstick cooking spray
1 (12-inch) skinny baguette or 6 slider rolls
1 1/2 teaspoons balsamic vinegar
2 tablespoons orange or tangerine marmalade
1 cup caramelized onion/mushroom mixture (from brisket recipe), chop mushrooms to bite size pieces
6 thin slices homemade Braised Brisket (cut to fit baguette or rolls)
6 slices Jarlsberg cheese (cut to fit baguette or rolls)
Cooking Directions:
Slice baguette or rolls horizontally to open. Place on foil-lined baking sheet and toast.
Drizzle 1/8 teaspoon balsamic vinegar on each half. Spread 1/2 teaspoon marmalade on each half.
Spoon onion and mushroom on bottom half of bread or rolls.
Add brisket and top with cheese. With roll (or baguette) tops to the side, broil 3 to 5 minutes until cheese begins to melt.
Cover with tops (slice into 2-inch sliders if baguette) and serve.
Makes 6 servings.
Recipe and photograph provided courtesy of Jarlsberg, Woolwich Dairy, García Baquero, and Old Amsterdam cheeses, through ECES, Inc., Electronic Color Editorial Services.