Gluten-Free Cherry Brownie Bites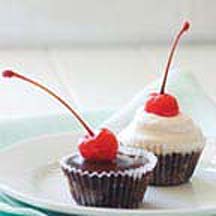 Fudgy, gooey gluten-free, grain-free brownies studded with chunks of sweet cherries.
Recipe Ingredients:
Cherry Brownie Bites:
1 (10-ounce) jar maraschino cherries, drained reserving 5 tablespoons of the syrup
8 ounces good quality bittersweet chocolate chips
1 cup unsalted butter
1 teaspoon pure vanilla extract
3/4 cup granulated sugar
3 large eggs, beaten
1 1/2 cups ground almonds
1/4 teaspoon kosher or fine sea salt
Cherry Chocolate Ganache: (optional)
4 ounces good quality semi-sweet chocolate chips
1/2 cup heavy whipping cream
3 tablespoons reserved cherry syrup
1 cup whipped cream lightly sweetened with a tablespoon or two of reserved cherry syrup (optional)
48 maraschino cherries for decoration, drained and patted dry
Cooking Directions:
For Cherry Brownie Bites: Preheat oven to 350°F (175°C). Insert paper liners in 48 mini muffin cups.
Pat the cherries dry and chop them roughly. Set aside.
Melt the chocolate chips and butter in a heat proof bowl in the microwave for 2 1/2 to 3 minutes, stirring once or twice until the butter is fully melted and the chips are almost all melted. Stir until all the chocolate is melted and the mixture is smooth and glossy. Stir in the vanilla extract, 2 tablespoons of the reserved maraschino cherry syrup and the sugar. Let cool slightly.
Beat in the eggs, ground almonds, salt and chopped cherries. Divide batter between the prepared muffin tins filling the tins almost full. A small ice cream scoop helps with this.
Bake for 10 to 14 minutes or until the tops are set and feel firmish to the touch but the insides are still soft. Do not over bake. Let cool in pan for 5 minutes then turn out to a wire rack to finish cooling.
If using chocolate ganache, spoon some ganache on top of the brownies, top each with a maraschino cherry and refrigerate for at least half an hour to firm the ganache. Can be made a day ahead.
If topping with cream, pipe or dollop on the whipped cream just before serving and top each brownie with a cherry.
For Cherry Chocolate Ganache: Pour chocolate chips into a small heatproof bowl. Heat the cream and cherry syrup in a small pan over medium high heat until it just comes to a boil. Pour the hot milk mixture over the chocolate chips and let set for 5 minutes. Stir until smooth and glossy. Let set for about 10 to 15 minutes then spoon over the brownies.
Makes 48 brownie bites.
Tip: These brownies can be baked in an 8-inch square pan if you prefer; just increase the cooking time to about 25 minutes. The top should be set but still a little squiggly inside. They will firm up as they cool.
Recipe by Carol Kicinski of Simply Gluten-free www.simplygluten-free.com. Copyright © 2007-2010 Simply Gluten Free, Inc., ALL RIGHTS RESERVED.
Recipe and photograph provided courtesy of Nationalcherries.com; through ECES, Inc., Electronic Color Editorial Services.