Peanut Butter Banana Chocolate Chip Brownies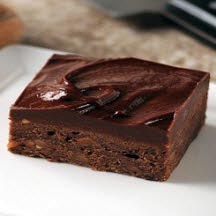 These extra-rich brownies, with an easy chocolate-peanut butter icing, are a special treat for any occasion.
Recipe Ingredients:
1/2 cup softened butter or margarine
1/2 cup brown sugar, firmly packed
1/2 cup granulated sugar
2 medium ripe bananas, pureed or mashed (2/3 cup)
1 large egg
1 teaspoon vanilla extract
2 (1-ounce) squares unsweetened chocolate, melted and cooled
1 1/4 cups all-purpose flour
1/4 teaspoon salt
1/2 cup chopped peanuts
1/2 cup semisweet chocolate chips
Chocolate-Peanut Butter Frosting:
1/2 cup semisweet chocolate chips
3 tablespoons creamy peanut butter
Cooking Directions:
Preheat oven to 350°F (175°C).
Spray 8-inch square pan with vegetable cooking spray. Beat together margarine and sugars until creamy. Beat in bananas, egg and vanilla. Stir in melted chocolate. Stir in flour and salt until blended, then fold in peanuts and chocolate chips. Pour mixture into prepared pan.
Bake 25 to 30 minutes or until brownies pull away from side of pan (do not over-bake). Cool completely on wire rack.
For Chocolate-Peanut Butter Frosting: Melt together, over medium heat, the chocolate chips and peanut butter and spread over brownies. Chill for 5 minutes or until set. Cut into 16 squares. Cover and store in a cool place.
Makes 16 squares.
Recipe and photograph courtesy of the National Peanut Board.