Chipotle-Braised Short Ribs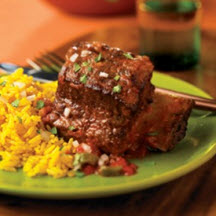 Beef short ribs simmered in a spicy chipotle tomato sauce until the meat is fork-tender and practically falling off the bone.
Recipe Ingredients:
3 pounds beef short ribs
1 tablespoon vegetable oil
1/2 teaspoon black pepper
1/4 teaspoon ground black pepper
1 cup diced white onion
1 (28-ounce) can crushed tomatoes
5 medium poblano peppers, roasted, peeled, seeded, cut into 1/4-inch thick strips
1 to 2 chipotle peppers in adobo sauce, finely chopped
Chopped white onion
Chopped fresh cilantro
Lime wedges (optional)
Cooking Directions:
Heat oil in large stockpot over medium heat until hot. Brown beef short ribs evenly. Remove from stockpot; season with salt and black pepper.
Add 1 cup onion to stockpot; cook 3 to 5 minutes or until tender, stirring occasionally.
Add tomatoes, chipotle peppers and poblano peppers to stockpot. Return beef to pan; bring to a boil. Reduce heat; cover tightly and simmer 1 1/2 to 2 1/2 hours or until beef is fork-tender.
Remove beef; keep warm. Skim fat from cooking liquid.
Spoon cooking liquid over beef. Sprinkle with chopped onion and cilantro, as desired. Garnish with lime wedges, if desired.
Makes 4 to 6 servings.
Recipe and photograph courtesy of The Beef Checkoff.