Ginger-Beef Stir Fry with Rice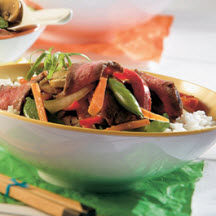 Recipe courtesy of CanolaInfo.org.
Recipe Ingredients:
2 pounds boneless beef sirloin steak, about 3/4-inch thick, trimmed
1/4 cup soy sauce
1 tablespoon cornstarch
1 tablespoon grated fresh gingerroot
1/4 cup canola oil
1 1/2 cups carrots, match to stick cut
1 large onion, sliced
1 large red bell pepper, cut into thin strips
1 1/2 cups mushrooms, sliced
2 cloves garlic minced
1 1/2 cups snow peas or sugar snap peas
1/8 teaspoon red pepper flakes (optional)
Hot cooked Jasmine rice for accompaniment
Cooking Directions:
Cut beef in half lengthwise and then cut crosswise into thin slices; set aside.
In small bowl, combine soy sauce, cornstarch and ginger. Stir until cornstarch dissolves; set aside.
Heat a large skillet or wok over medium-high heat. Working in 3 batches, add 1 tablespoon of canola oil, coating bottom evenly. Add 1/3 of beef slices and cook 1 minute, until browned, stirring constantly. Remove from skillet and set aside. Repeat with remaining 2 batches.
Return skillet to medium-high heat; add remaining 1 tablespoon canola oil. When hot, add carrots, onion,bell pepper, mushrooms and garlic; stir-fry 3 minutes or until tender crisp.
Add soy mixture, beef, snap peas and pepper flakes,if desired, to vegetables in skillet. Cook 1 to 2 minutes, stirring constantly, or until sauce thickens.
Serve over hot cooked rice.
Makes 8 servings.
Recipe and photograph courtesy of CanolaInfo.org.