Mom's Pot Roast with Vegetables and Gravy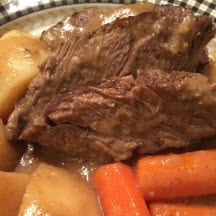 Pot roast with all the fixings is not only a comforting meal any day of the week, it is special enough to serve for Sunday supper. Tip: Plan ahead and make enough to have leftovers to make Mom's Beef Pot Pie.
Recipe Ingredients:
Pot Roast:
1 (5-pound) beef roast (blade cut, chuck, etc.), fat trimmed
1 (4-ounce) jar prepared horseradish - divided use
2 teaspoons kosher or sea salt (or to taste)
Freshly ground black pepper to taste
Garlic powder
Onion powder
1 cup water
2 teaspoons beef base or bouillon granules
Vegetables:
8 to 10 medium potatoes, peeled and cut in half lengthwise
1 pound carrots, pared and cut into 2 1/2-inch lengths (cut larger carrots in half lengthwise)
1 large onion, peeled and quartered
Gravy:
1/4 cup butter
1/4 cup all-purpose flour (use more flour if a thicker gravy is preferred)
Water
2 teaspoons beef base or bouillon granules
Kosher or sea salt and freshly ground black pepper to taste
Cooking Directions:
For Pot Roast: Brown roast on all sides over medium heat in Dutch oven or in an electric skillet at 350°F (175°C). (Browning creates a desirable caramelized flavor.)
Reduce the heat to low and spread half the horseradish over the roast and sprinkle generously with the garlic powder, onion powder, salt and pepper. Turn roast over and repeat with remaining horseradish and the seasonings.
Combine the 1 cup water and beef base and pour it around the roast.
Increase the heat just until the liquid begins to boil, then place lid on and reduce heat to a simmer. (If using an electric skillet, check after several minutes to see if adjusting the heating element either up or down is needed for an ideal simmer that's not too slow or to fast.)
Simmer for 3 hours, turning roast over halfway through cooking process, or until roast is fork tender and pulls apart easily.
For Vegetables: About 2 1/2 hours into cooking, add the peeled and cut-up vegetables. Cook, covered for about 30 minutes more, or until vegetables are tender.
Remove roast and vegetables to a serving platter and keep warm.
For Gravy: Pour broth from pan into a 4-cup glass measure and add enough water to make 4 cups. Set aside
Melt butter in the same cooking pan over medium heat, stir in the flour and cook for 1 minute. Slowly stir in the reserved 4 cups liquid, add the beef base and stir constantly until gravy has come to a boil and thickened. Serve with the roast and vegetables.
Makes 10 to 12 servings.
Tip: Taste the gravy and, if needed, add more beef base and seasonings.
Recipe and photograph by Hope Cantil; copyright © 1999; property of CooksRecipes.com. See Terms of Use.