Southwestern Beef Roast with Spicy Salsa Verde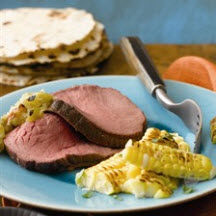 Cooked on the grill over indirect heat, this roast is big on flavor.
This recipe is an excellent source of protein, niacin, vitamin B6, vitamin B12, selenium and zinc; and a good source of iron.
Recipe Ingredients:
1 beef top sirloin petite roast (1 1/2 to 2-pounds)
2 teaspoons ground cumin
1 1/2 teaspoons ground black pepper
1/2 teaspoon ground coriander
Spicy Salsa Verde:
12 ounces tomatillos (5 to 8 medium), husks removed, rinsed
1 small white onion, cut in half, root ends left intact
1 jalapeño pepper
1 tablespoon olive oil
1/2 cup loosely packed fresh cilantro
2 tablespoons fresh lime juice
1 clove garlic, minced
1 teaspoon granulated sugar
3/4 teaspoon salt
Cooking Directions:
Prepare grill for indirect cooking by igniting equal number of charcoal briquets on each side of fire grate, leaving space in center. When coals are medium and ash-covered (25 to 30 minutes), add 3 to 4 more briquets to each side. Place aluminum foil drip pan in center of grate between coals. Position grid with handles over coals so briquets may be added during grilling as needed.
Combine cumin, black pepper and coriander; press evenly onto all surfaces of beef roast. Brush tomatillos, onion and jalapeño pepper with oil.
Place roast in center of grid over drip pan; arrange vegetables around roast over coals. Grill roast, covered, 40 to 55 minutes for medium rare to medium doneness, turning occasionally. (Add 3 to 4 briquets per side every 30 minutes to maintain heat level.) Grill tomatillos and jalapeño pepper 11 to 13 minutes or until skin of pepper is completely blackened and tomatillos are tender. Grill onion 18 to 20 minutes or until tender and browned, turning occasionally. Place pepper in food-safe plastic bag; close bag. Let stand 5 minutes.
Remove roast when instant-read thermometer inserted into thickest part of beef, not resting in fat, registers 135°F (57.2°C) for medium rare; 150°F (65.5°C) for medium. Transfer roast to carving board; tent loosely with aluminum foil. Let stand 10 to 15 minutes. (Temperature will continue to rise about 10°F to reach 145°F for medium rare; 160°F for medium.)
Meanwhile, prepare Salsa. Remove and discard skin, stem and seeds from jalapeño pepper and root ends from onion halves. Place pepper, onion, tomatillos, cilantro, lime juice, garlic, sugar and salt in food processor container. Cover; pulse on and off until coarsely chopped and well combined. Set aside.
Carve roast into thin slices; season with salt and black pepper, as desired. Serve with salsa.
Makes 6 to 8 servings.
Tip: To prepare on gas grill, preheat grill according to manufacturer's directions for medium indirect heat. Place roast and vegetables on grid as directed above. Grill roast 45 to 60 minutes for medium rare to medium doneness Grill times for jalapeño pepper remain the same. Grill tomatillos 18 to 23 minutes; onion 25 to 27 minutes.
Nutritional Information Per Serving (1/6 of recipe): 189 calories; 8 g fat (2 g saturated fat; 4 g monounsaturated fat); 73 mg cholesterol; 293 mg sodium; 5 g carbohydrate; 1.3 g fiber; 25 g protein; 5.6 mg niacin; 0.6 mg vitamin B6; 3.2 mcg vitamin B12; 2.9 mg iron; 29.9 mcg selenium; 6.1 mg zinc; 3.5 mg choline.
Recipe and photograph courtesy of The Beef Checkoff.