Cranberry Pomegranate Sangria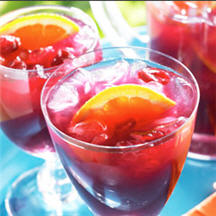 This signature drink was inspired by the flavors of Spain.
Recipe Ingredients:
1/4 cup Ocean Spray® Craisins® Original Sweetened Dried Cranberries
1 tablespoon sugar
2 tablespoons water
1/2 cup brandy
1 (750-ml) bottle dry red wine, chilled
3 cups Ocean Spray® Cran·Pomegranate™ Cranberry Pomegranate Juice Drink, chilled
1 cup orange juice, chilled
1 orange, thinly sliced
21/2 cups club soda, chilled
Cooking Directions:
Combine sweetened dried cranberries, sugar and water in small saucepan. Cook over medium-low heat for 3 minutes or until sugar is dissolved and cranberries are plumped. Stir in brandy. Let cool.

Combine brandy mixture, wine, cranberry pomegranate juice drink and orange juice in large pitcher. Add orange slices. Mix well and chill.
Stir in club soda just before serving.
Makes 10 servings.
Recipe and photograph provided courtesy of Ocean Spray Cranberries, Inc.