Blue Cheese and Pear Crêpes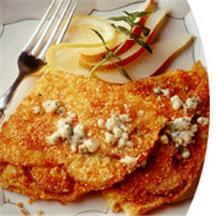 Savory, blue cheese and pear-filled crêpes, coated in Parmesan cheese and corn flake crumbs, are fried in butter and served warm with a sprinkling of crumbled blue cheese.
Batter Breakfasts Category Winner Deona J. Tait of Bronxville, N.Y.
Recipe Ingredients:
1 cup self-rising flour
4 large eggs
1/2 cup milk
1/2 cup plus 1 tablespoon water
2 tablespoons butter, melted
2 pears cored and cut into thin slices
1/4 cup blue cheese, crumbled
1/2 cup corn flake crumbs
1/3 cup freshly grated Parmesan cheese
4 tablespoons butter

Cooking Directions:
Blend flour, two of the eggs, milk, water and melted butter in a blender until smooth. Refrigerate at least 30 minutes. Heat a lightly buttered 6 to 8-inch crêpe pan over medium heat. Pour or spoon 3 to 4 tablespoons of batter in pan and spread out to form a round crêpe. Brown lightly on each side. Watch closely to avoid overcooking. Set aside. Repeat with remaining batter.
Place 3 to 4 slices of pear and one teaspoon of crumbled blue cheese on each crêpe. Shape each crêpe into a triangle by folding it over twice. Set aside filled crêpes.
Beat the remaining eggs.
In a separate bowl, combine the corn flake crumbs and Parmesan cheese.
Carefully brush both sides of each triangle with the beaten egg. Coat with Parmesan cheese mixture.
Melt remaining butter in a large skillet and fry carefully until golden brown on each side. Sprinkle with additional blue cheese if desired, and serve warm.
Makes 12 crêpes.
Recipe and photograph provided courtesy of the American Dairy Association.