Easy Sausage Gravy and Biscuits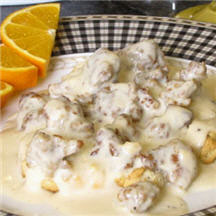 Country-style milk gravy with sausage, ladled over biscuits, is a popular breakfast dish. Also great for a quick-fix supper, too.
Recipe Ingredients:
Easy Drop Biscuits:
2 cups buttermilk biscuit mix
2/3 cup milk
Sausage Gravy:
1 pound bulk pork sausage
1/4 cup butter
1/4 cup all-purpose flour
1 (12-ounce) can evaporated milk diluted with 12 ounces of water*
Salt and freshly ground pepper to taste
Cooking Directions:
For Easy Drop Biscuits: Preheat oven to 425°F (220°C).
In medium bowl, stir ingredients together with a fork until just mixed. Drop 12 large spoonfuls or 18 smaller spoonfuls of biscuit dough about 1-inch apart onto a greased baking sheet, smoothing biscuits into a more rounded form with the back of the spoon, if desired.
Bake for about 12 to 15 minutes or until golden brown. Serve warm.
For Sausage Gravy: In 10-inch skillet cook sausage until well done. Drain off excess fat.
Add butter and melt over medium-high heat; add flour and cook for 1 minute, stirring constantly.
Slowly pour in canned milk diluted with 12 ounces (1 can) water, stirring constantly. Bring to a boil, reduce heat and cook until thickened, stirring occasionally. Season to taste with salt and pepper, as desired.
Serve sausage gravy ladled over warm, split biscuits.
Makes 6 servings gravy and 12 large or 18 small biscuits.
*Substitute 3 cups milk for the canned evaporated milk and omit the 12 ounces of water.
Tip: For thinner gravy, add a little more milk at a time until desired consistency.
Recipe and photograph by Hope Cantil; copyright © 1999; property of CooksRecipes.com. See Terms of Use.