Oatmeal Porridge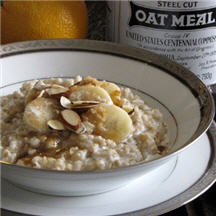 Steel-cut oats take longer to cook than rolled oats, but the end result is a creamy, yet toothsome texture that is well worth the extra minutes. As an added treat, toss in golden raisins, chopped dates, fresh blueberries, sliced bananas and/or nuts into individual servings.
Recipe Ingredients:
4 cups water
1/4 teaspoon kosher or sea salt
1 cup steel-cut oats (also called Irish oatmeal and Scotch oats)
Cooking Directions:
Bring water and salt to a boil in medium saucepan. Stir in oats, bring back up to a boil; reduce heat and simmer uncovered, stirring occasionally at first and more frequently as mixture thickens, for about 25 to 30 minutes or until the grains have absorbed most of the water.
Remove from heat and serve immediately, or if a thicker texture is desired, cover saucepan and let sit for a few minutes.
As desired, serve oatmeal porridge sweetened with granulated sugar, brown sugar or honey and topped with a drizzle or more of milk, cream or half-and-half.
Makes 4 servings.
Oatmeal Trivia: A bowl of Irish steel-cut oatmeal is traditionally served with buttermilk. Hmm? I'll take sweet milk or cream, thank you very much!
Nutritional Information Per Serving (1/4 of recipe; oatmeal only): 151.7 calories; 15% calories from fat; 2.7g total fat; 0.0mg cholesterol; 123.0mg sodium; 167.3mg potassium; 25.8g carbohydrates; 4.1g fiber; 0.0g sugar; 21.7g net carbs; 6.6g protein.
Recipe and photograph by Hope Cantil; copyright © 1999; property of CooksRecipes.com. See Terms of Use.