Ricotta and Apricot Walnut Crêpes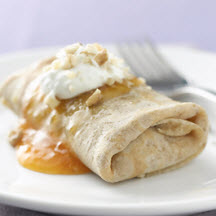 These flavorful crêpes are perfect for brunch or ideal with coffee and fresh berries.
Recipe Ingredients:
Crêpes:
3/4 cup all-purpose flour
1/2 cup California walnuts, finely chopped
1 cup milk
3 large eggs
2 tablespoons butter, melted
2 teaspoons granulated sugar
1/8 teaspoon salt
Filling:
1 1/2 cups ricotta cheese
1/2 cup apricot preserves
1 large egg
1/4 teaspoon ground cinnamon
1/8 teaspoon ground nutmeg
2 tablespoons butter - divided use
Garnish:
1 cup whipped cream
1/2 cup California walnuts, finely chopped
1/4 teaspoon ground cinnamon
Cooking Directions:
In a blender or food processor, combine flour, walnuts, milk, eggs, butter, sugar and salt. Process until smooth. Pour into a measuring cup, cover and let stand at room temperature for at least 30 minutes or refrigerate for up to 2 days.
In bowl, stir together ricotta, apricot preserves, egg, cinnamon and nutmeg until well combined. Set aside.
In crêpe pan or skillet with shallow sides, melt 1/2 teaspoon butter over medium heat. Pour 3 tablespoons of the batter into the pan, tilting to form a thin even layer over the bottom of the pan. Cook until the top is dry and set and the underside is golden, about 3 minutes. Remove the crêpe to a piece of waxed paper. Repeat with remaining butter and batter, stacking the crêpes between sheets of waxed paper. Let cool slightly before filling, or let cool completely and freeze for up to 1 month.

Thaw at room temperature before filling.
Spoon 1/4 cup of the filling into the center of the uncooked side of the crêpe. Fold the sides over the filling and fold in ends to make a rectangular shape. Repeat with remaining crêpes.
In skillet, melt butter over medium heat. Add crêpes, seam side down, and cook until golden brown on both sides, about 8 minutes.
Serve immediately with whipped cream, chopped walnuts and a sprinkle of cinnamon.
Makes 4 servings.
Recipe and photograph courtesy of Walnut Marketing Board.