Tex-Mex Frittata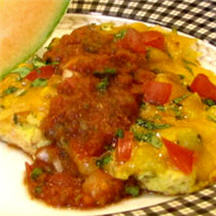 Crispy fried wedges of fresh corn tortillas cook inside this southwestern-style frittata topped with cheddar cheese, diced fresh tomato and cilantro. This versatile dish can be served anytime of the day, from breakfast to supper.
Recipe Ingredients:
6 large eggs, beaten
1/2 of a (4-ounce) can diced green chiles*
1/2 teaspoon kosher or sea salt, or to taste
Freshly ground pepper to taste
6 corn tortillas
3 tablespoons vegetable oil
1/2 cup chopped onions
1 cup shredded cheddar cheese
1 medium ripe tomato, seeded and diced
2 tablespoons chopped fresh cilantro
Salsa for garnish
Cooking Directions:
In a medium bowl, beat the eggs and stir in the green chiles, salt and pepper; set aside.
Stack tortillas and cut into 8 wedges (cut stack in half; then quarters, then eighths); separate.
Heat oil in 10-inch skillet just until hot. Fry tortilla wedges over medium-high heat until crisp, stirring frequently. Reduce heat to medium and add onions, cooking until onions begin to soften.
Pour in beaten egg mixture. As eggs begin to set at the bottom and sides, gently lift cooked portions with spatula so that uncooked egg can flow to bottom. Do not stir.
When nearly set, sprinkle with the cheese, reduce heat to low**, cover with lid and heat just until cheese has melted and egg is cooked.
Sprinkle with diced tomato and chopped cilantro.
Serve in wedges garnished with salsa.
Makes 6 servings.
*Use remaining chiles as desired, or freeze for future use in soups, chilis, etc.
**If cooking on an electric range, you may only need to turn off the heat source at this point, as there should be enough heat from the burner to continue cooking the egg and melt the cheese.
Nutritional Information Per Serving (1/6 of recipe): 274.3 calories; 62% calories from fat; 19.0g total fat; 231.3mg cholesterol; 375.5mg sodium; 211.4mg potassium; 13.8g carbohydrates; 2.1g fiber; 1.8g sugar; 11.7g net carbs; 12.7g protein.
Recipe and photograph by Hope Cantil; copyright © 1999; property of CooksRecipes.com. See Terms of Use.