Candlelight Fruitcake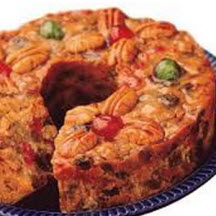 Fruitcake should always be served in very thin slices, so its jewel-like appearance can be savored with the eyes as well as with the palate.
Recipe Ingredients:
1 package wax paper
2 1/2 cups all-purpose flour
1 teaspoon salt
1 teaspoon baking powder
1 teaspoon ground cinnamon
1/2 teaspoon ground nutmeg
1/2 teaspoon ground ginger
2 cups chopped pecans
2 cups raisins
1 1/2 cups candied red cherries - divided use
2 1/2 cups candied pineapple - divided use
2 cups chopped dried mixed fruit
1 1/4 cups vegetable shortening
1 1/4 cups honey
6 large eggs
1/2 cup pecan halves
1/2 cup golden raisins
1/2 cup light corn syrup
Cooking Directions:
Line the bottom of a greased 10-inch tube pan with layers of greased wax paper. Sift together flour, salt, baking powder, cinnamon, nutmeg, and ginger.
Preheat oven to 275°F (135°C).
In another bowl, combine chopped pecans, raisins, 1 cup candied red cherries, 2 cups candied pineapple, and chopped dried mixed fruit. Sprinkle with part of the flour mixture and toss to coat evenly; set aside.
Cream shortening and honey until light and fluffy. Add eggs, one at a time, beating well after each addition. Add the flour mixture, mix well, then fold in the fruit mixture. Spoon into the prepared pan. Place a shallow pan of hot water on the bottom oven rack; place the tube pan on the center rack and bake for 3 hours and 15 minutes.
Meanwhile, combine pecan halves, 1/2 cup candied red cherries, golden raisins, and 1/2 cup candied pineapple.
In a saucepan, bring light corn syrup to a boil and cook for 1 1/2 minutes. Add to the fruit mixture and mix well. Arrange on the fruitcake then bake for 45 minutes, or until the fruitcake is firm but not dry. Cool completely in the pan, invert, and remove the wax paper.
Makes 18 servings.