Nutty Chip Fruit Cake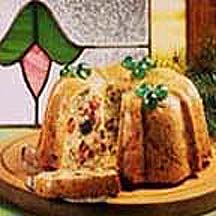 A fruitcake chock-full of nuts, dates, candied cherries—and oh yes—chocolate chips!
Recipe Ingredients:
2 cups all-purpose flour
2 teaspoons baking powder
1/4 teaspoon salt
2 cups chopped pecans or almonds
1 cup (about 4-ounces) chopped dates
1 cup (about 8-ounces) red and/or green glace cherries, halved
2/3 cup (about 4-ounces) semi-sweet chocolate morsels
6 large eggs
1 cup granulated sugar
1 teaspoon vanilla extract
Additional halved glace cherries or powdered sugar (optional)
Cooking Directions:
In large bowl, stir together flour, baking powder and salt. Stir in nuts, fruits and chocolate morsels. Set aside. In small mixing bowl at medium speed, beat together eggs, sugar and vanilla until well blended. Fold into reserved flour mixture. Pour into greased and floured 9 cup fluted tube pan.
Bake in preheated 300°F (150°C) oven until lightly browned and cake tester inserted in center comes out clean, about 50 to 60 minutes. Cool on wire rack 10 minutes. Remove from pan and cool completely. Garnish with additional halved cherries, or a dusting of powdered sugar, if desired.
Makes 12 servings.
Recipe and photograph provided courtesy of The American Egg Board.