Upside Down Pear Yam Cake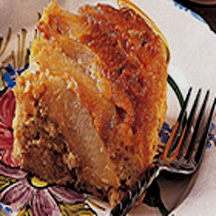 The delicious, juicy pears and the hint of spicy yams, along with a caramel topping, will make this low-fat cake a favorite.
Recipe Ingredients:
3 fresh pears, cored, peeled and sliced thin (about 3 cups)
40 soft caramels, unwrapped
1 tablespoon margarine or butter
1/3 cup skim milk
1 (18.25-ounce) package Reduced Fat Yellow Cake Mix
1 (15-ounce) can sweet potatoes (yams), drained and mashed or 1 cup fresh sweet potatoes, cooked and mashed
1 teaspoon ground cinnamon
1/2 teaspoon ground nutmeg
1/4 cup canola oil
1 1/3 cups water
1 large egg
3 large egg whites
Cooking Directions:
Preheat the oven to 350°F (175°C). Coat a 13x9x2-inch baking pan with nonstick cooking spray and dust with flour.
Slice the pear halves and arrange along the bottom of the pan.
In a small saucepan or the microwave, combine the caramels, margarine and milk. Place over a low heat or in the microwave until melted and smooth. Pour the mixture evenly and carefully over the pears.
In a large mixing bowl, combine the cake mix, mashed yams, cinnamon, nutmeg, oil, water, egg and egg whites, mixing until well-blended.
Spoon the yam batter evenly over the pears.
Bake for 35 to 40 minutes or until a wooden pick inserted in the center comes out clean. Cool 5 minutes and go around the edges with a knife. Invert onto a large serving platter and serve hot.
Makes 12 servings.
Created by Louisiana Sweet Potato Commission spokesperson, Holly Clegg.
Recipe and photograph courtesy of Louisiana Sweet Potato Commission.