Aunt Sue's Peanut Brittle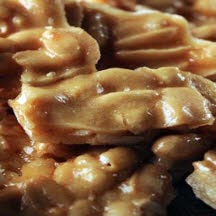 My sister Susan's peanut brittle recipe is simply one of the best and has long been a family favorite.
Recipe Ingredients:
2 cups granulated sugar
1 cup light corn syrup
1/2 cup water
1 cup raw peanuts
1 tablespoon butter
2 teaspoons baking soda
1 teaspoon kosher or sea salt
1 tablespoon vanilla extract
Cooking Directions:
Line a large baking sheet with lightly buttered aluminum foil. Set aside.
Combine the sugar, corn syrup and water in a heavy 3-quart saucepan. Cook over medium heat, stirring constantly, until the sugar is dissolved. Continue cooking, stirring occasionally, until the mixture reaches the soft crack stage (285°F | 140°C) or when small amount of mixture dropped in cold water separates into hard but not brittle threads.
Add the peanuts and butter. Cook, stirring constantly, to the hard crack stage (300°F | 150°C) or until small amount of mixture dropped in cold water separates into hard, brittle threads. Remove from the heat.
Quickly stir in the baking soda, salt and vanilla (mixture will foam up). Turn the mixture onto prepared baking sheet. Spread out with a metal spatula as thin as possible (warmed pans help to spread mixture thinner).
Cool completely, invert pan and peel off foil; break into serving pieces. Store in tightly covered container at room temperature.
Makes 48 servings. (The yield is a 'guesstimate', breaking the candy into pieces is not an accurate method of measurement.)
Personal Note: Not bothering with a candy thermometer, Aunt Sue would simply say to cook the sugar/syrup mixture until it turns the perfect golden color, add the peanuts and cook a couple more minutes. She had the knack of knowing just the right time, but such a technique is learned only by experience. However, it is good to know that you should be aware of the color, as a sudden darkening would indicate the candy has cooked too long.
Nutritional Information Per Serving (1/48 of recipe): 80.9 calories; 25% calories from fat; 2.5g total fat; 0.6mg cholesterol; 102.1mg sodium; 32.4mg potassium; 14.6g carbohydrates; 0.4g fiber; 14.0g sugar; 14.2g net carbs; 1.2g protein.
Recipe by Hope Cantil; copyright © 1999; property of CooksRecipes.com. See Terms of Use.