Chocolate Crisp Peanut Butter Balls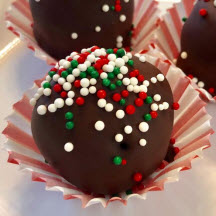 Crispy rice cereal adds a light, crunchy texture to the peanut butter filling inside these chocolate-covered peanut butter balls.
Recipe Ingredients:
1 pound powdered sugar
2 cups smooth peanut butter
1/2 cup unsalted butter, melted
2 cups crispy rice cereal
2 (12-ounce) packages semisweet chocolate chips
Cooking Directions:
Combine powdered sugar, peanut butter and butter in a large bowl. Beat with an electric mixer on medium until smooth. Add cereal and gently stir until thoroughly combined.
In a microwave-safe bowl, melt chocolate on HIGH for 2 minutes. Melt in 30-second increments, stirring after each one, until completely melted.
Roll peanut butter mixture into 1-inch balls. Using a fork or skewer, dip each ball in chocolate until completely covered. Gently shake off excess.
Place peanut butter balls on a cookie sheet covered with wax paper until chocolate is firm. Refrigerate if kitchen is warm. Store in a tightly sealed container at room temperature.
Makes 5 to 6 dozen peanut butter balls.
Recipe photograph by Tiffany Hodgesr; copyright © 1999; recipe property of CooksRecipes.com. See Terms of Use.